This festival season brings back some of your classic favorite festival makeup trends but also some new and experimental ones to try out. The usually "no makeup" makeup looks seem to be a pretty staple look for those more low key festival look, but if you are aiming to be extra af, then maybe you are going to try one or more of the following trends this season. Let's face it, chances are you either only get to wear some of these fun looks for festival season, of you will rock them more often than not. So let's dive into some of the fun and experimental looks you can play with to make that flashy entrance!
Stenciled Highlight
That's right earthlings, grab some stickers in your favorite shape or cut out some contact paper in some shapes of your own. Take those stickers and slap them on your face where ever you'd like, suggested areas; i.e. High points of your cheeks, around your temples, collar bones, tops of your shoulders, chest and even above your eyebrows/across your forehead. From there, take your favorite and most lit highlighter and go nuts on top of all those stickers. This is a great time to use all of those awesome multidimensional and duochrome highlights that have been coming out recently, the multiple colors give you choices to match with your outfit and eye look to make your whole ensemble cohesive. Once you've covered your areas sufficiently, peel off the stickers and shapes and you've got a unique look that makes you shine like the lights at main stage! This is also a similar concept to create mermaid scales with fishnets for the ultimate siren or other magical creature look!
 Crystal Tiaras
Try out the crystal tiara look without having to worry about losing it when your raging. Stick flat back crystals straight to your forehead with eyelash glue in any shape you want, get creative with it. Fill in the extra space between your crystals with glitter or anything else you want to add. Gypsy Shrine sells ready to go crystal decal type items that you can use as well if you want a more stick and go option.
Glitter
The classic glitter addition to any look is always a go to festival staple. You can add glitter to basically anywhere on yourself and look sparkly and fabulous as you dance the night away. From glitter butts/boob looks, glitter tears, glitter freckles, glitter Highlight, hair glitter and body glitter, you have endless options to choose from. If you need some inspiration or help on how to stick it to yourself for the whole night, check out the Get Shiny post for some helpful guidance and tips.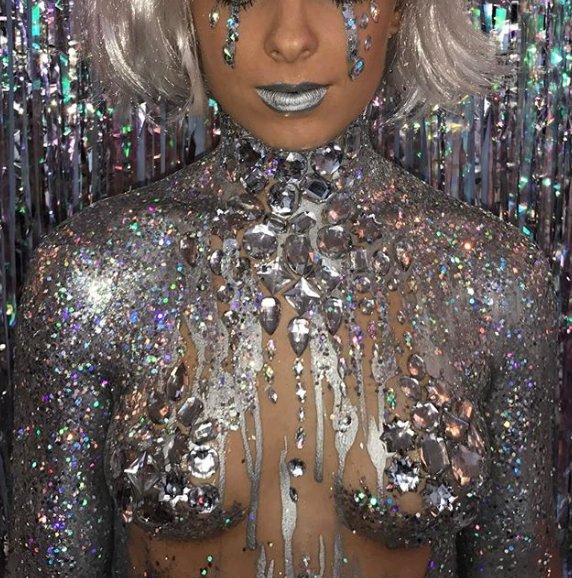 Temporary tattoos
Everyone remembers how fun temp tats can be, and now there's metallic and holographic options at your disposal. You can put them just about anywhere and find them in stores and online. They do a pretty good job at staying on for multiple days, so maybe a good option for camping festivals where you want to get the most use out of them with out trying to scrub them off each night. You can chose lines, shapes, patterns and even freckles to rock at your next fest. Just remember to wear sunscreen too, or you'll have some odd tan lines post fest.
Dewy Glam
It's pretty inevitable that you are going to end up pretty sweaty at any festival this season, so why not play it off like you were going for a dewy look. Instead of using your favorite matte products for this festival season, which will most likely be melting off your face within a few hours of dancing like no ones watching, try a dewy finish base that gives you a bit of wiggle room. Layer your base over an spf moisturizer and a hydrating primer and build your favorite glam look from there. Use as many waterproof and long wear products as you can to avoid the face melt effect. Make sure to set your look with finishing/setting spray to get the most out of your hard work. The goal is not to look like a sad sweaty panda by the end of your rage session.
Dots & Dashes
A simple yet fun addition to any makeup look is adding lines, dots and dashes in fun colored liquid liners. My go to colors are white, black, silver, gold and metallic blue.  Take the color of your choice and draw dots, dashes, lines, and even shapes where ever you want to create a unique masterpiece out of your face canvas. A few placement suggestions; above/between your eyebrows, on/down your forehead, across your cheeks/bridge of your nose, around your eyes, down your lips, down your chin, down your neck, across your collar bones, and on your hands and arms ect.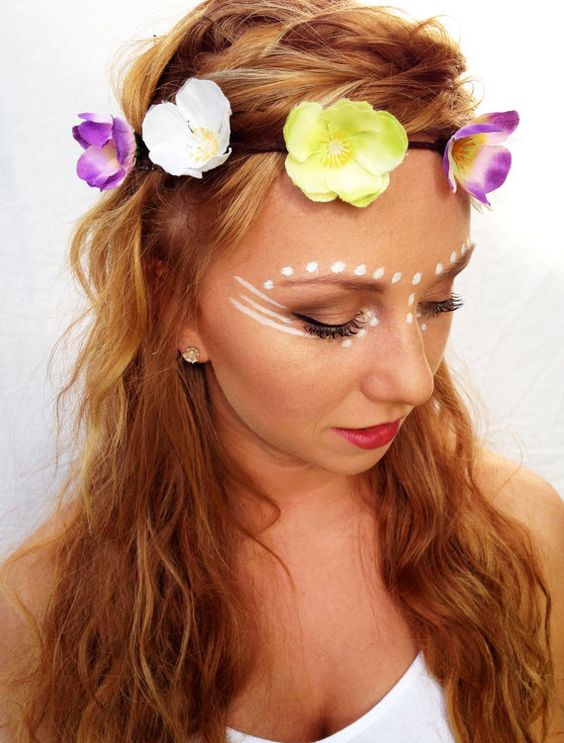 I hope this helped to come up with some ideas for your next festival look! Stay hydrated this festival season and make sure to wear your sunscreen under all your makeup looks to keep the sunburn at bay!
Stay Stylish,
The Style Astronaut